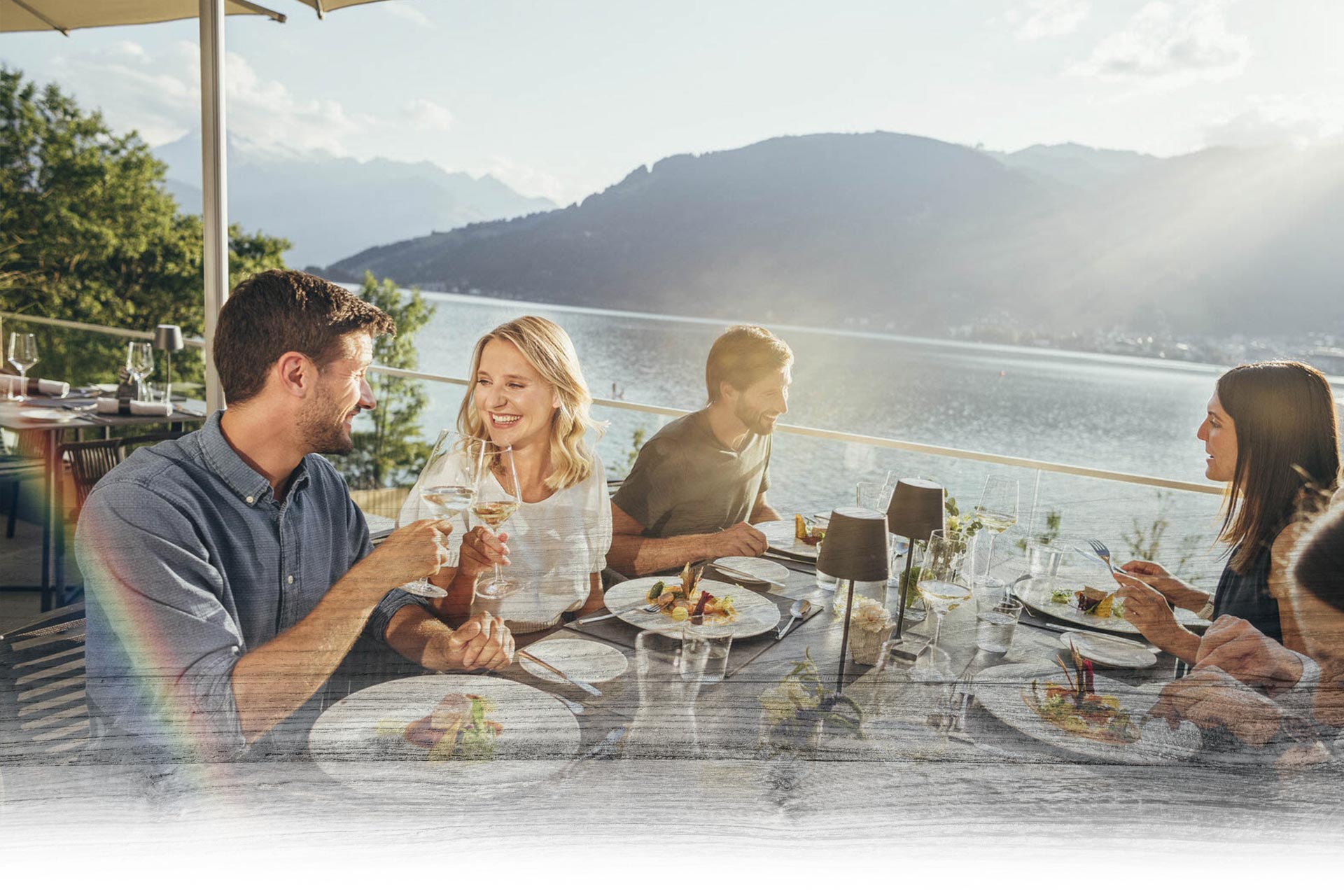 GASTRO AND APRÉS SKI
Eating out – Region of Zell am See-Kaprun
Choose from a very good range of 40 restaurants, offering a great variety of options – Austrian, French, Italian and Asian.
Traditional Austrian dishes can be found all over, but there's always something different to try when you fancy a change.
KUPERKESSEL · Located in a former petrol station, this quaint restaurant is popular with locals for its reasonably-priced pizza, pasta, fish and chargrilled steaks. Take away also possible.
+43 6542 72768 | http://www.kupferkessel.at/en/
SALZBURGER STUBEN, SALZBURGHOF HOTEL · The two Gault Milau toques are well-earned. Dishes come out looking like works of art.
+43 6542 7650 | https://www.salzburgerhof.at/en/gourmet-hotel-austria
STEINERWIRT 1493 "Wirtshaus" · Traditional Austrian hospitality and authentic dishes which include things like cream of wild garlic soup, Roast venison with juniper berries, and the legendary Salzburger Knodel.
+43 6542 72502 | http://www.steinerwirt.com/en/wirtshaus
BIO BURGER FACTORY· Sample the best burgers in town – freshly homemade with quality beef, lamb, chicken and venison, for a juicy evening treat.
+43 6542 47465 | http://www.bioburgerfactory.at
VILLA CRASY DAISY · A lively and modern place with a large menu -steak, pizza, ribs, rice and mouth watering bergers. A great Zell am See hot spot.
+43 6542 725260 | http://crazy-daisy.at/en/home.html
RESTARONTE PIZZARIA GIUSEPPE · A superb Italian offering quality Italian food.Take away also possible.
+43 6542 723730 | http://www.giuseppe.co.at
KRAFTWERK· Fish, meats and pasta, great modern food from their bio kitchen. Great cocktails at the bar too!
+43 664 3888016 | https://www.kraftwerk-restaurant.at
SCHLOSS PRIELAU · Schloss Prielau is located in idyllic grounds, just 200 metres from the north shore of Lake Zell. The former residence of writer Hugo von Hofmannsthal´s family was first documented in 1425. Since 1980, Schloss Prielau has been owned by the Porsche family, for lovers of Gourmet cuisine.
+43 6542 72911-0 | http://schloss-prielau.at/en/dining-and-drinking
24 KAPRUN · kitchen and bar, local produce global trends, steak night every Tuesday, themed Sushi nights and a great bar. Fabulous restaurant and outside terrace.
+43 6547 20624 | https://www.24kitchenbar.at/en/
TORRE VINERIA · New from summer 2020, stylish Italian wine bar, contemporary bar offering small tastes to accompany a wide variety of delicious wines.
+43 6542 20659 | https://www.vineria-torre.at
SCHMITTENTAL · Apres ski hutte and restaurant, a little walk up the hill from the centre of Zell for the best pizza and steak in town. Apres Ski Tuesdays – Sunday 16.00-20.00 in Swiss pine parlous.
+43 6542 72332 | https://www.pension-zellamsee.com/en/winter-holiday-kitzsteinhorn-schmitten/apres-ski-hut
SPEISEN MEISTEREI · Wine and dine on the other side of the lake, perfect steak and fresh fish. Unique in the Salzburger Land region: Bulging display case with fresh fish and the meat maturing cabinet / Dry Ager, where you can choose exactly the piece of quality meat or exactly the piece of fresh fish yourself and have it prepared by the chef personally, Thomas Schwab.
+43 6542 47448 | http://www.speisenmeisterei.at
ERLHOF· The family-run Erlhof has a cosy restaurant within a rustic vault with a sun terrace and a wonderful view over Lake Zell. We serve traditional Austrian delicacies as well as dishes with an international influence. In the Erhof restaurant we attach great importance to fresh products that are processed into delicacies.
+43 6542 56637 | https://www.erlhof.at/kulinarik-genuss/
With all these restaurant choices, we would strongly suggest booking if you wish to dine any later than 6pm.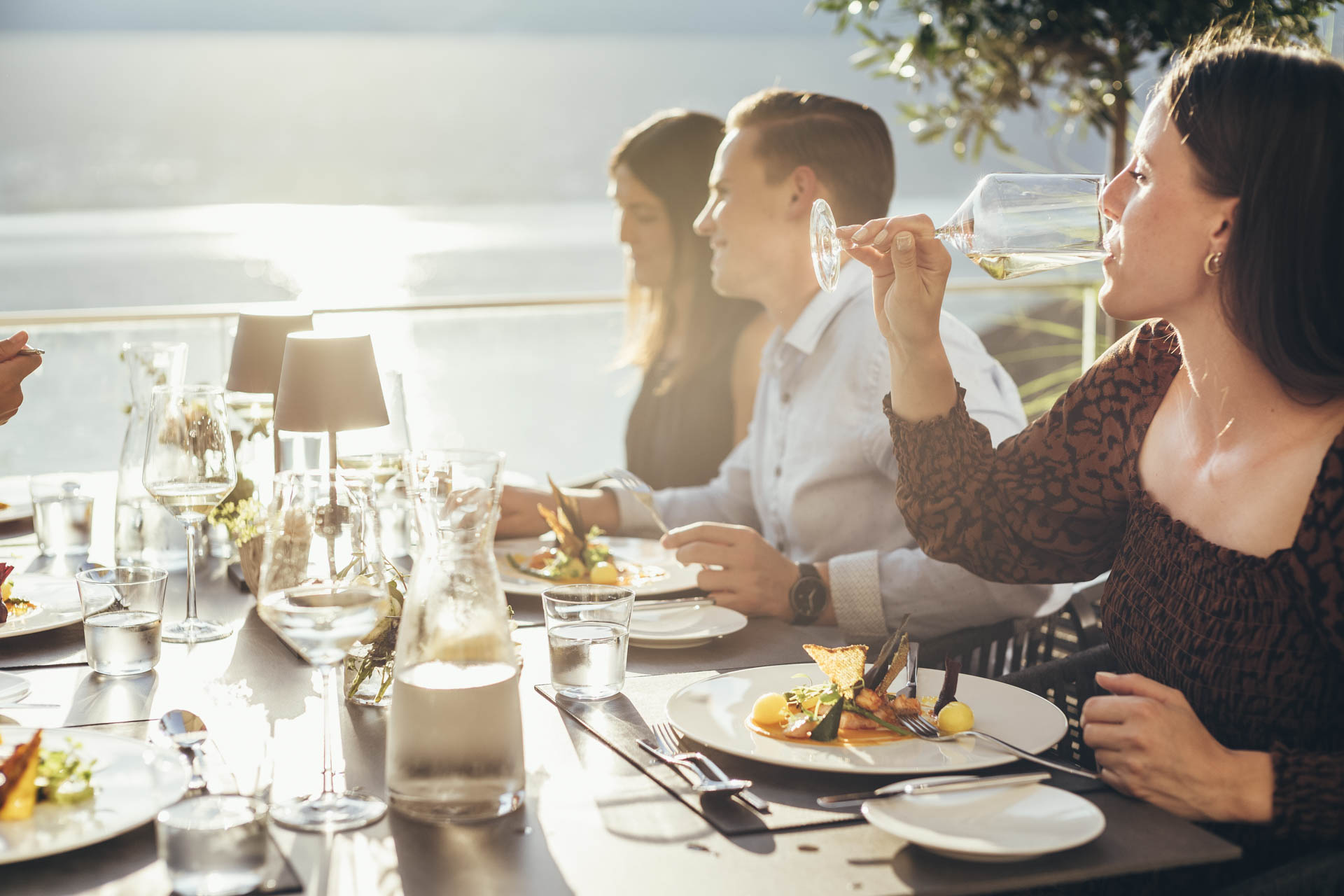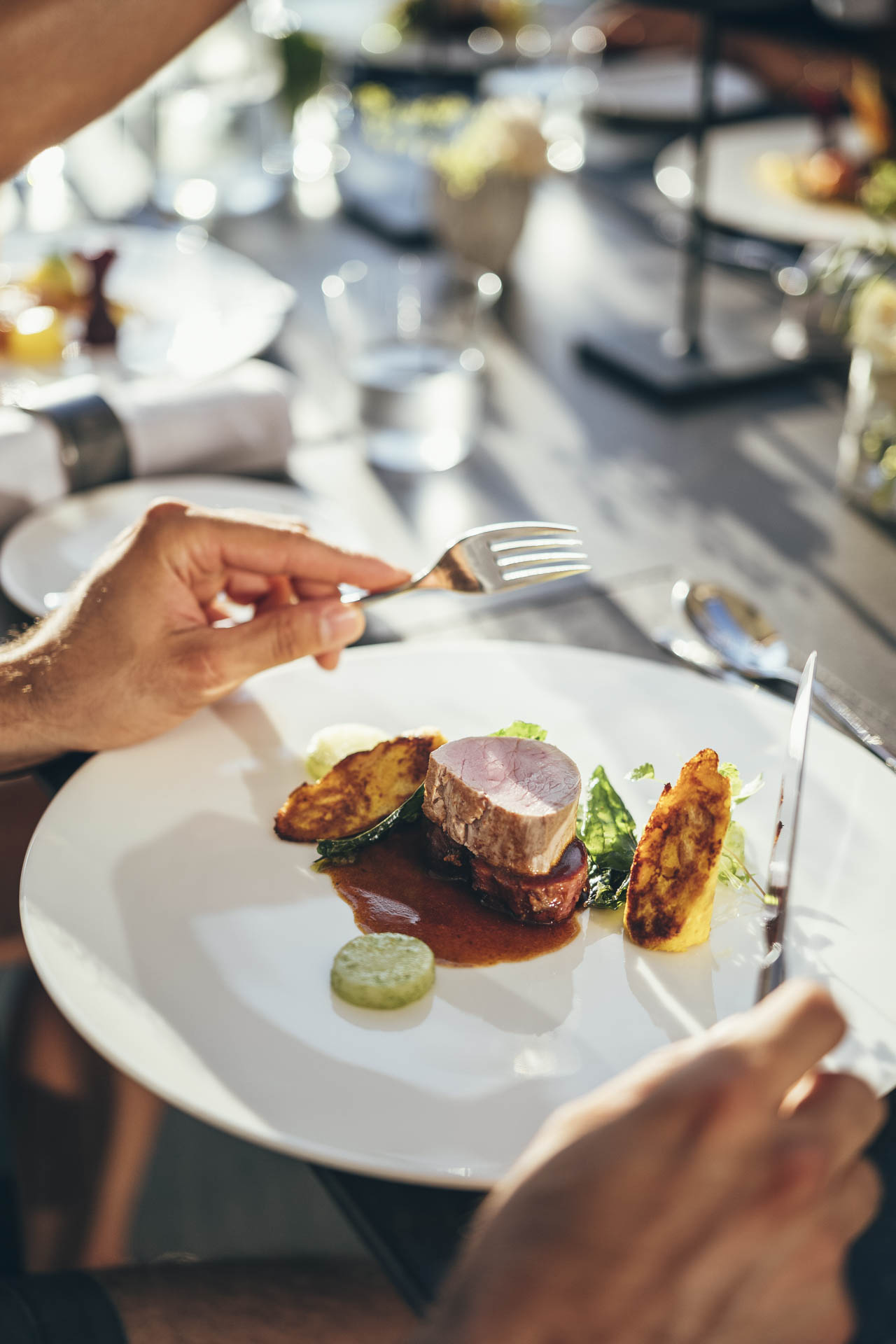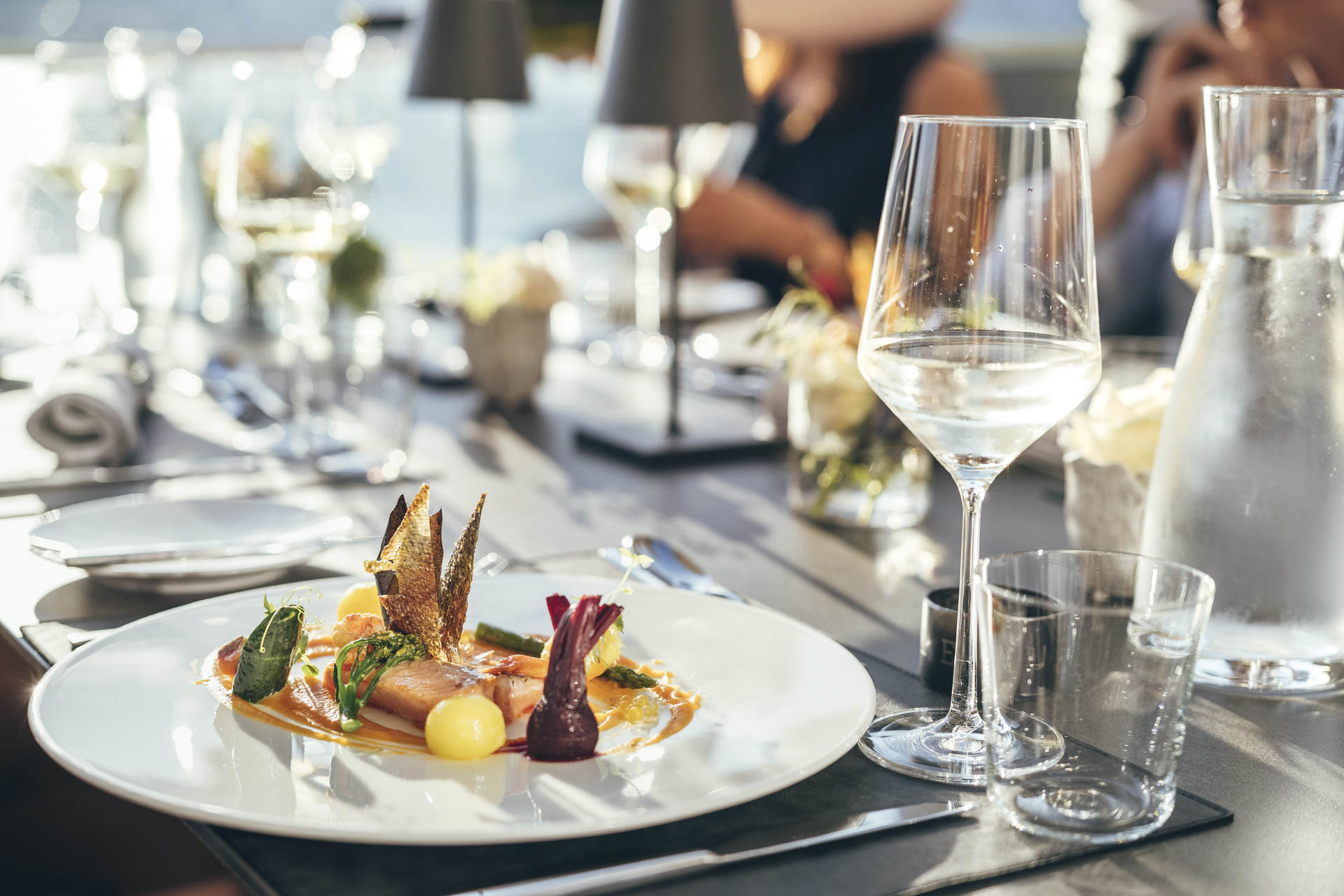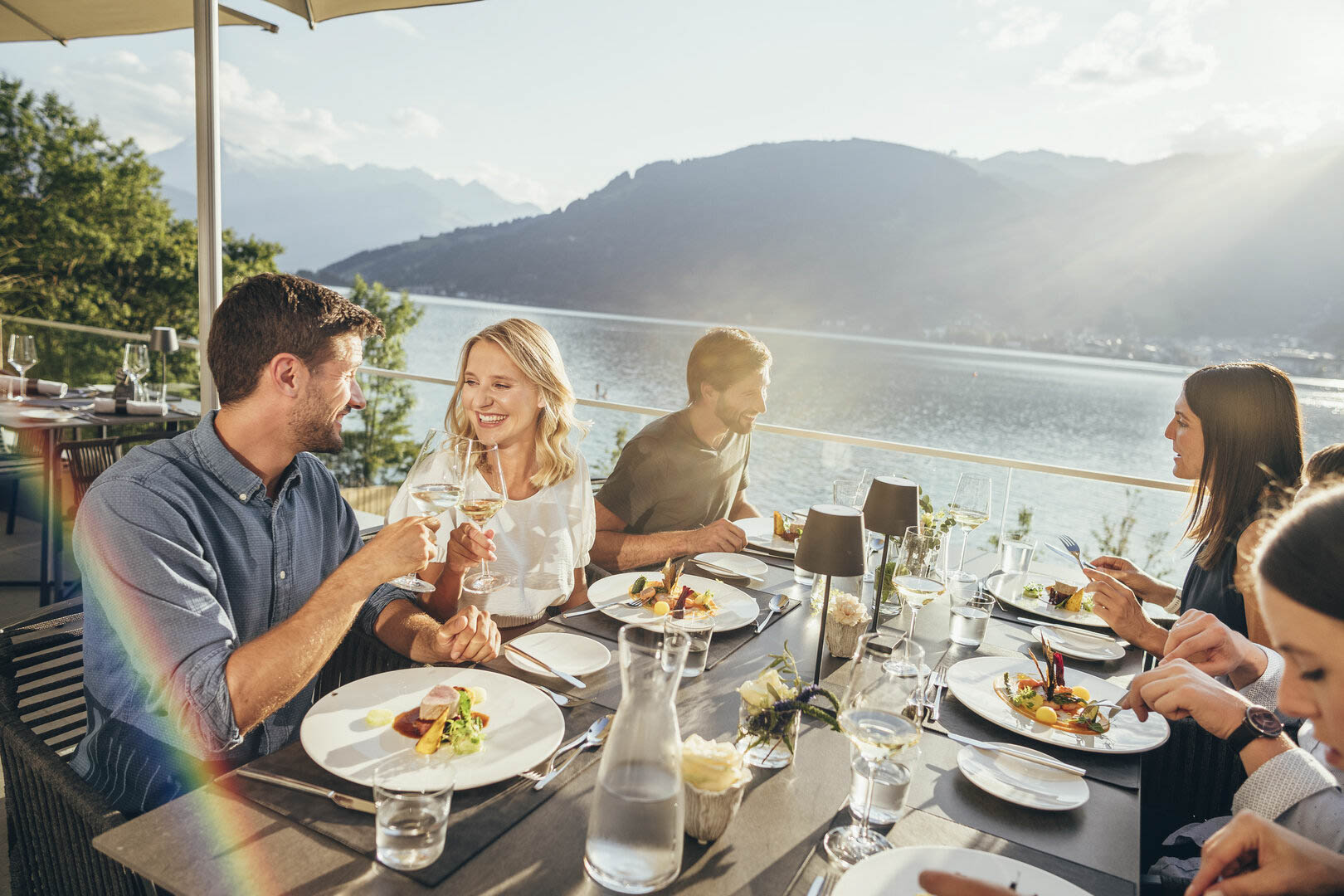 MOUNTAIN RESTAURANTS
Eder Hütte · New to winter 2016/17 a modern approach to Austrian classic dishes.
Hochzeller Alm · one of the oldest and still one of the best on the Schmittenhöhe. 'Kasnocken' and salad is a must!
Schnapps Hans Alm · At the summit of the Schmitten, enjoy great food with awesome panoramic views and music compliments of DJ Hans.
Breiteck Alm · A traditional hütte with traditional hospitality and a great choice for a mountain breakfast. Try either the local bacon and eggs or the kaiserschmarrn (local pancake) with plum sauce.
Pinzgauer Hütte · A destination restaurant, along a windy road with a skidoo to back into the slopes.
Glocknerhaus · Follow the signposts to this rustic cabin and make yourself at home as you warm up over tasty home cooked food.
Gletschermühle (Kitzsteinhorn) · High quality classic Austrian cusine
Gipfel Restaruent · (top of the Kitzsteinhorn glacier) – Salzburg's highest restaurant at 3029m, unique alpine design with 5-star views of Austria's highest peaks.
Ice Camp (Kitzsteinhorn) · Presented by Audi, a unique world of ice and snow, a creation of three big igloos. Enjoy cool music, drinks and snacks in an unforgettable location.
Maiskogel Alm Ranch (top of Maiskogel cable car) · Cosy and informal, grilled meat specialities, live music and even a petting zoo.
Areit Alm (Schuett piste) · Pick a spot in the homey restaurant or terrace, decorated with warm wood and sheepskins, and tuck into simple but hearty fare.
Areit Lounge · Chic and stylish mountain restaurant with terrace, serving regional classic food. Perfect chilling with a glass of fizz.
+43 654257177 | http://www.areitlounge.at
APRÉS SKI AND NIGHTLIFE
Zell am See is home to some truly excellent nightlife and offers many traditional cafés, bars and nightclubs. Après animals will not be disappointed!
DIELE BAR · Always a great atmosphere and welcome. Great music and meeting place for those who have used Austrian Ski School. You can also get bar meals. Terrific pizzas!
A BIT OF IRISH · The only non-smoking bar in town hosts live music events during the week, a weekly pub quiz and also shows all major sporting events on the TV – so no more panic over missing the football.
VILLA CRAZY DAISY · There's always a vibrant atmosphere here with live music, guest DJs and roof terrace with heaters and blankets. And with great views of the lake and all the beer you could dream of.
GIN HOUSE · If gin is your thing, you need to come here. It's got the largest gin collection in the world – 450 and counting – which they make some scrummy cocktails with. There's also an outdoor lounge.
SCHNAPPS HANS ALM · Sun or snow, the legendary DJ Hans ensures the party is swinging. Great atmosphere although be prepared to get up and dance!
TORRE VINERIA · New from summer 2020, stylish Italian wine bar, contemporary bar offering small tastes to accompany a wide variety of delicious wines.
+43 6542 20659
SCHMITTENTAL · Après ski hütte and restaurant, Après Ski Tuesdays – Sunday 16.00-20.00 in Swiss pine parlous.+43 6542 72332
INSIDER BAR · café bar and cocktails in the centre of Zell am See, great place to meet friends.
K1 CLUB AND DISCO · Rock the dance floor until the small hours of the morning.
OFF PISTE BAR · Après ski bar and club, great live music every night during the winter season.
TOMS BAR AND LOUNGE · Après Ski in Tom's cosy bar in the centre of town.
GREENS · Small bar big on music, cocktails and so much more.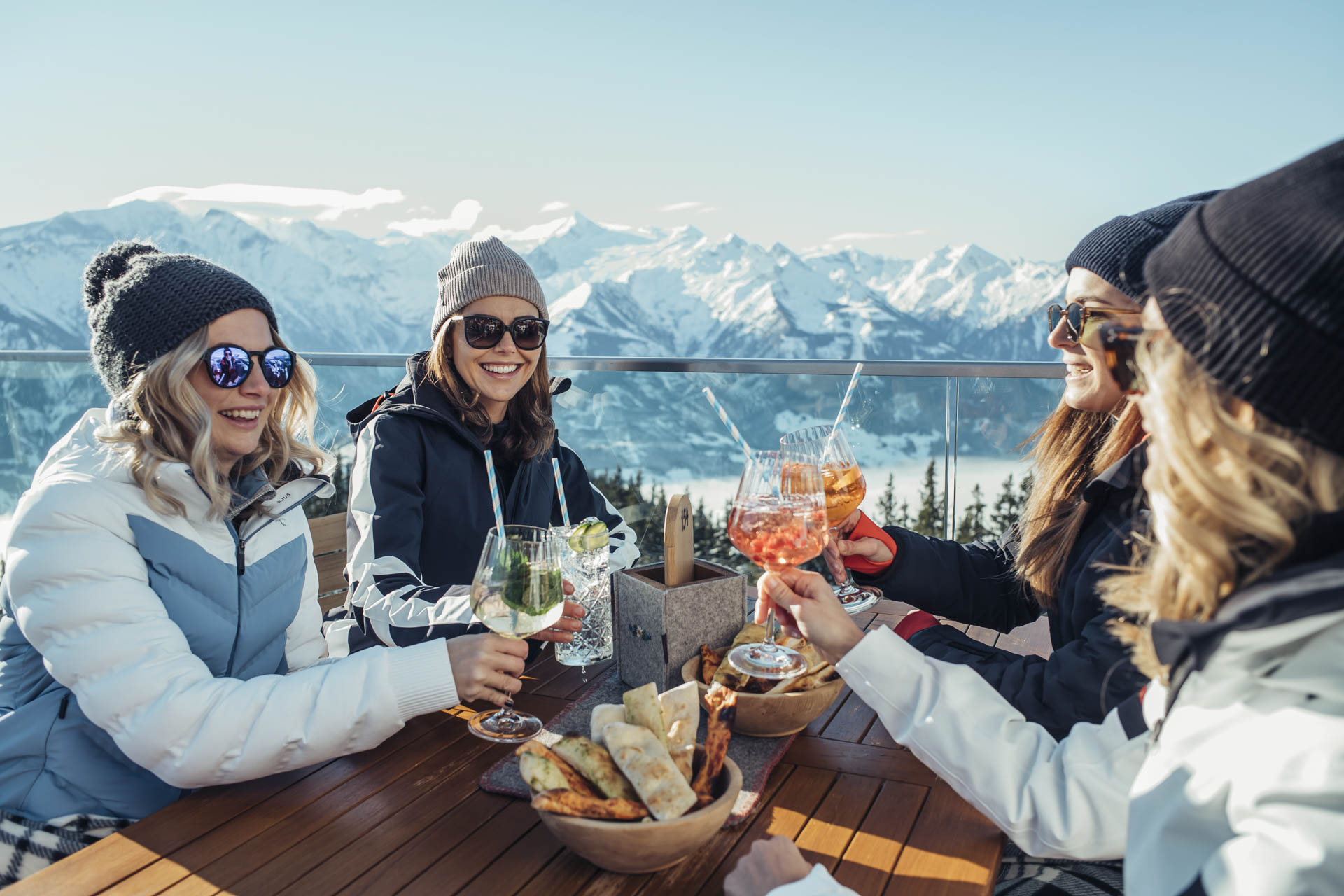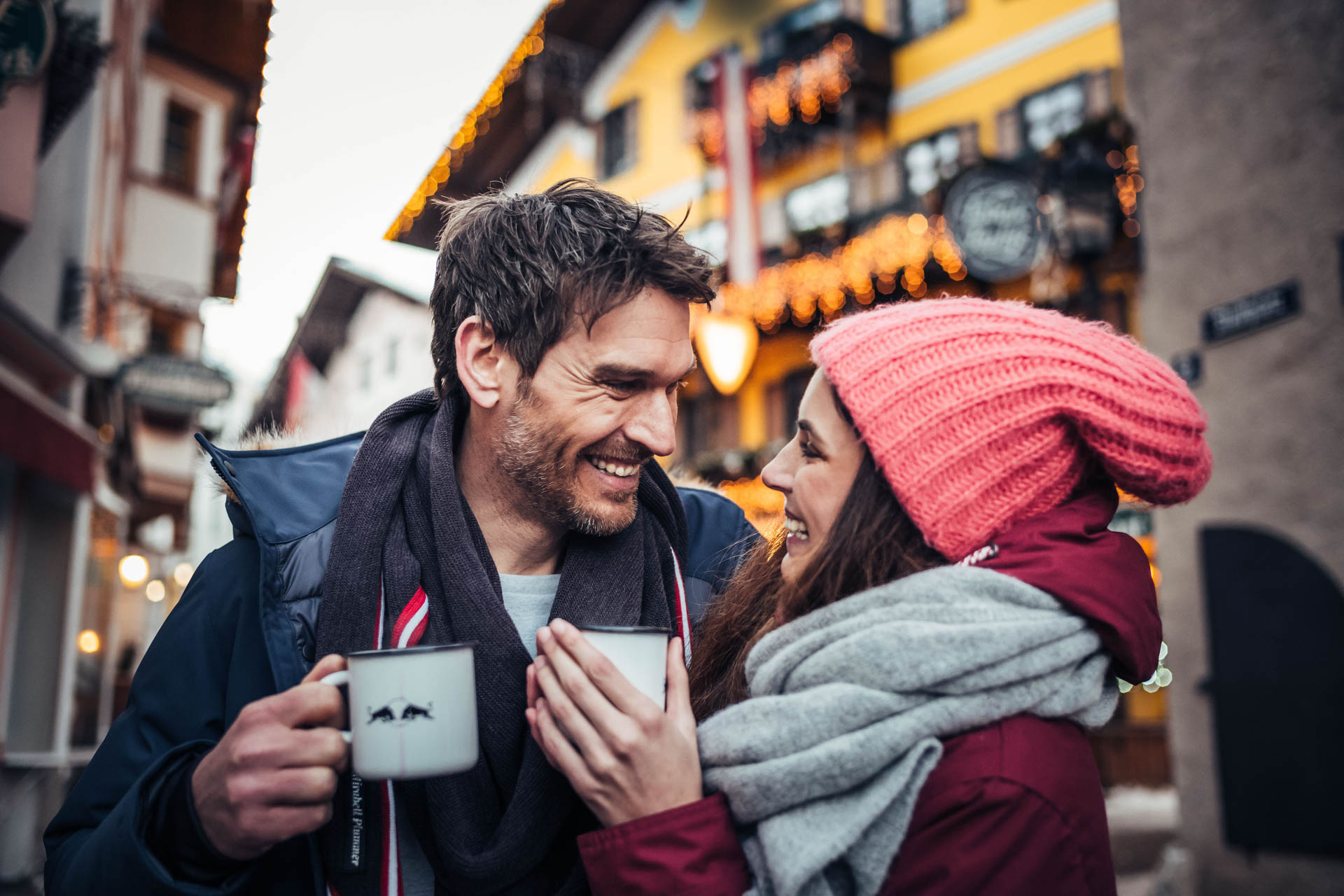 Contact us
Contact Form
Send Us An Email


CALLtoACTION
Your mountain hideaway stay in the Austrian Alps
Please send us your no-obligation enquiry for information,
prices and availability at one of our luxury chalets



We look forward to hearing from you

Team Chalet Alp Lux
Lucy, Ian, Ash and the Team
CALLtoACTION
Your mountain hideaway stay in the Austrian Alps
Please send us your no-obligation enquiry for information,
prices and availability at one of our luxury chalets



We look forward to hearing from you

Team Chalet Alp Lux
Lucy, Ian, Ash and the Team