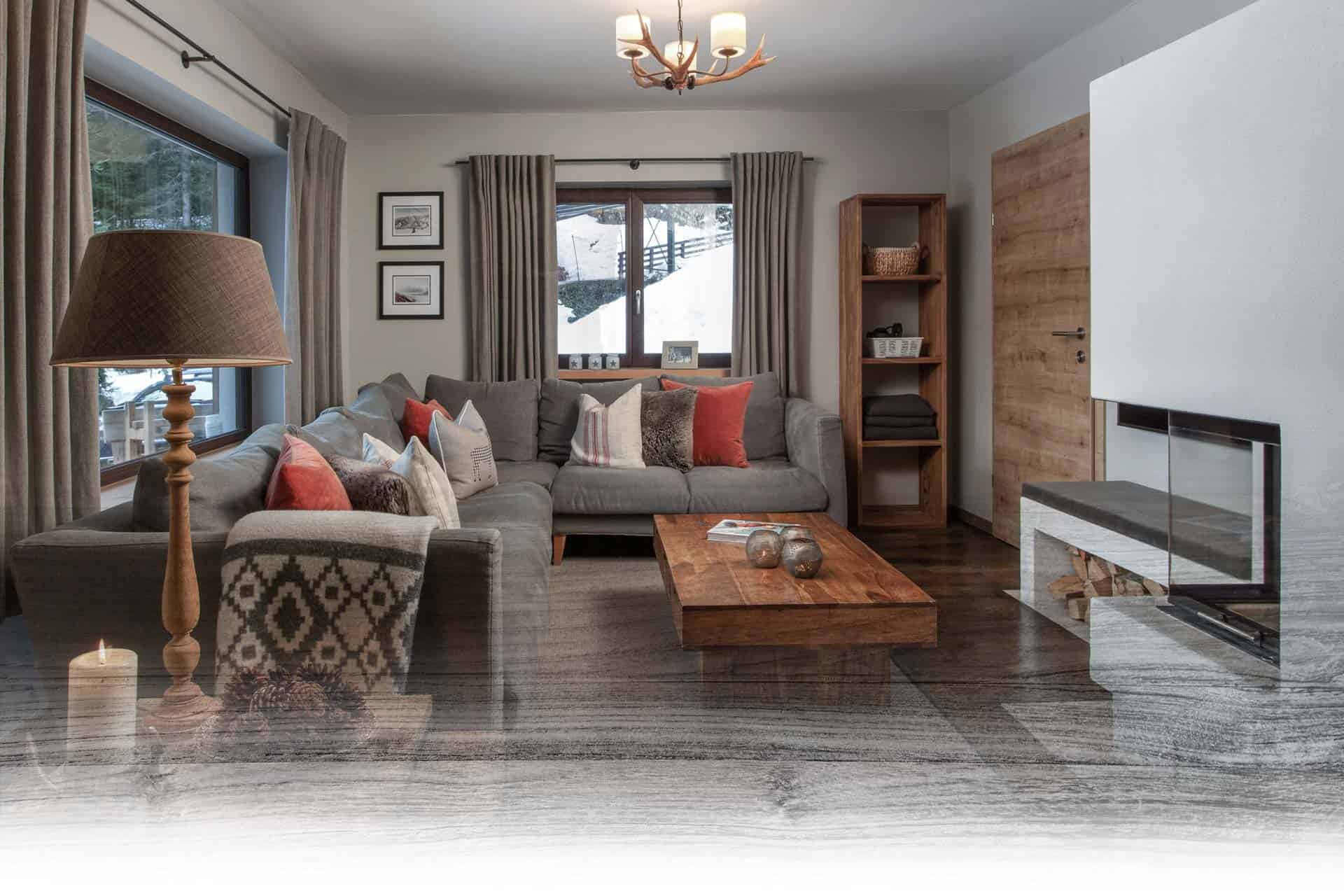 Luxury self-catering alpine chalets for an unforgettable holiday
We pride ourselves on our home-from-home accommodation, chalets fully kitted out with all the little luxuries you could wish for.  From amazing locations, toboggans and fluffy towels to a selection of entertainment and wellness options. Our uniquely designed alpine chalets are packed full of facilities to keep all our guests happy.
Beautifully decorated throughout, every room is furnished to a high standard with unique touches. Comfortable bedrooms with scrumptious beds dressed in luxury Egyptian linens with robes and luxury towels to match. Plenty living and storage areas with entertainment facilities and complimentary WIFI throughout, login to your own Netflix or Amazon account to stream the best entertainment though the latest Smart TV's. Enjoy listening to your favourite tunes through the Sonos music system or choose a family favourite board game. There's even an Xbox to entertain the kids. Each chalet enjoys the latest in modern kitchen design, stocked full of self-catering appliances, accessories and essentials guaranteed to get your creative juices flowing.

Exclusive use of the alpine chalet
Piste side locations
Personal arrival Meet and Greet
Chalet host
Owner ski celler and heated boot dryer
Lots of little extras like fire wood, sauna oils, coffee pods, snow clearing etc.
Egyptian linens and bathrobes
Luxurious toiletries
All kitchen essentials, from olive oil to dishwasher tabs.
Wi-Fi
Kitchen full with the latest appliances from wine fridges to Nespresso machines
Private parking
Laundry room with washing machine, separate dryer and detergents
BBQ and fire pit
Board games and Xbox
Smart TV's , Sonos sound system
Wellness, either sauna or hot tub
OTHER CHALET SERVICES AVAILABLE
When available, grocery and baby sitting service.
Breakfast service, breads from the region can be booked and delivered to your door
Chalet Catering can be directly booked

Freedom, choice and flexibility, means you can stay in a fantastic property in superb location, but you get to choose which services you need and which you don't. You make the rules. Want to eat out? Sure. Care to cook yourself? No problem. Chef for the night? Wonderful.
Pre-arrival groceries, deliveries of beers and wines can be arranged to ensure the cupboard are filled with goodies for your stay. We have also tried and tested a wide variety of local restaurants and would be delighted to offer some suggestions. Why not enjoy being pampered, book your own private chief, we can suggest a great local company.
Delicious chalet catering or even your own private chef, we can suggest a great local company.
Breakfast service can be booked through Gugglberger, oven-warm breads from the region delivered to your door, usually between 06.30-07.00
Care has been taken to offer the highest quality, when it comes to our linens, towels and robes we provide Egyptian cotton bedding for a luxurious night's sleep. An abundance of fluffy bath towels, spa towels and robes are provided together with luxurious shower products to make your stay feel magical.  In every chalet we have designed laundry facilities, using high quality Miele appliances and offering washing detergent for your use during your stay.

Our chalet host is there for you during your stay. From the moment you arrive, our host will be at the property greet you and introduce you to the chalet.  No question is too small!  Our Chalet hosts are available for your assistance and have a wealth of local knowledge.
A clean house is our priority.  Our chalets are cleaned to the highest level and in line with the current Covid-19 situation your health is also top priority.  We are following safety protocols as directed by local authorities, using cleaning chemicals effective against the Coronavirus and linen, towels and laundry all washed in accordance with the guidelines.  Our property is  disinfected between guests and hand sanitizer supplied for your use during your stay.
In addition to the final house clean after your departure, additional housekeeping is available upon request and for an additional charge.
Gugglberger - Breakfast service
oven-warm breads from the region delivered to your door, usually between 06.30-07.00

Find out more about our wonderful chalets, their facilities and the year-round hospitality

Contact us
Contact Form
Send Us An Email


CALLtoACTION
Your mountain hideaway stay in the Austrian Alps
Please send us your no-obligation enquiry for information,
prices and availability at one of our luxury chalets



We look forward to hearing from you

Team Chalet Alp Lux
Lucy, Ian, Chole, Sophie and William
CALLtoACTION
Your mountain hideaway stay in the Austrian Alps
Please send us your no-obligation enquiry for information,
prices and availability at one of our luxury chalets



We look forward to hearing from you

Team Chalet Alp Lux
Lucy, Ian, Chole, Sophie and William